A Deep Dive into the Life of an English Trainer
イングリッシュトレーナーとしての人生

※和訳は下部に載せてあります。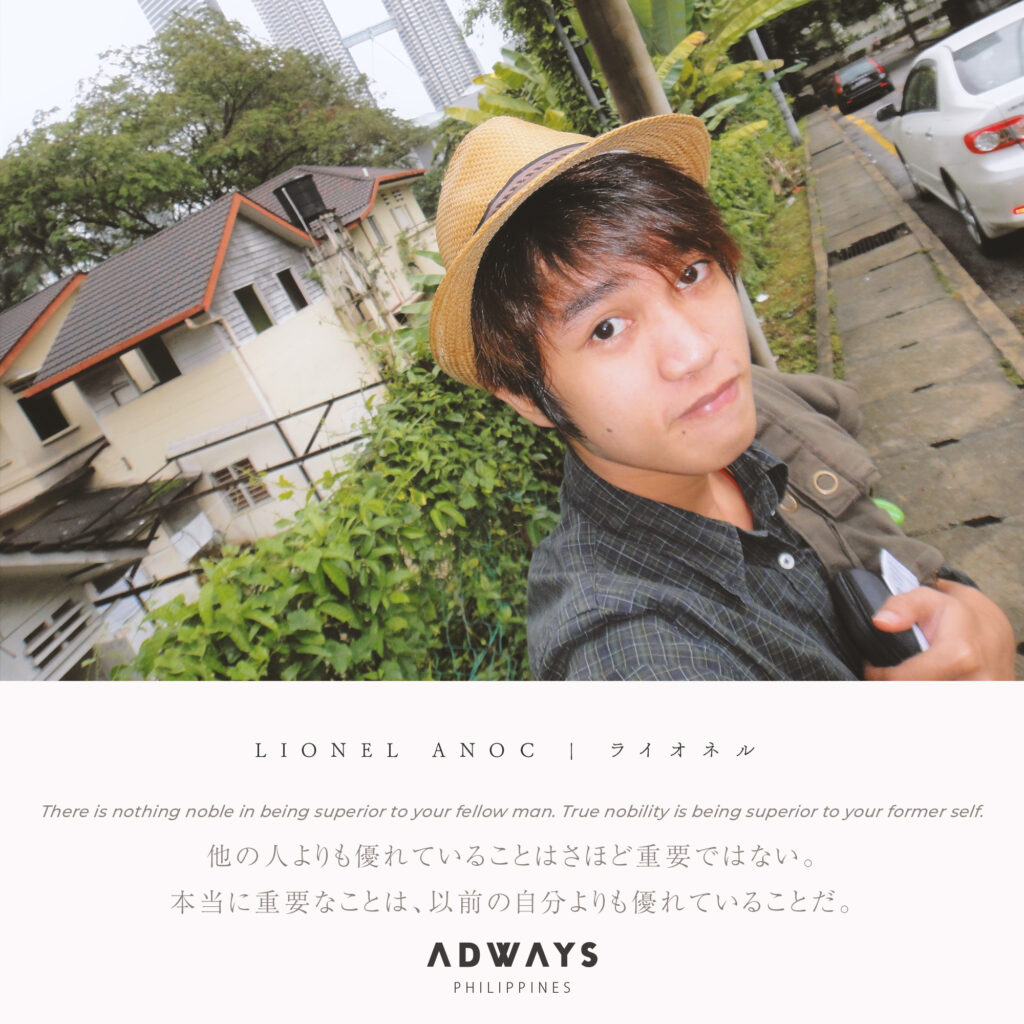 SELF INTRODUCTION
Greetings, everyone!
My name is Lionel, one of the English Trainers at Adways Philippines.
You can call me "Lio" or "Raio" for short.
I have been an English Trainer at Adways Philippines since April 17th, 2017.

As you all may know, the Philippines is an island country, consisting of approximately 7,000 islands, and I was born in an island called "Bohol"; however, I was raised and spent most of my life in Cebu.
Both Bohol and Cebu, in my humble opinion, are incredibly beautiful islands, known for their pristine beaches and other breathtaking sightseeing spots that are absolutely worth visiting!
One notable sightseeing spot in Bohol is a place called "Chocolate Hills", where people get to see hundreds of natural hill formations covered in grass that turn brown in summer, hence the name "Chocolate Hills".
Cebu is also blessed with many beautiful sight-seeing places, one of which is "Oslob", where people get to swim with whale sharks. You guys will surely have a blast in Bohol and Cebu!

Prior to working at Adways Philippines, I used to work at another popular Japanese ESL (English as Second Language) school in Cebu for five years or so, which means I had already had prior experience in respect to teaching English to Japanese learners long before I joined Adways Philippines.
Working as an English trainer is such a fun and rewarding experience for me!
The reason why you have chosen to be an English Trainer and why at ADWAYS PHILIPPINES
Ever since I was an elementary school student, teaching has always been something that I truly derive pleasure from.
I really find teaching such a fun and rewarding experience.
I would say that teaching is my forte.

Coincidentally, I have always been into language learning as well since I was a kid.
Growing up, I really loved learning English.
I also enjoyed learning other languages such as Spanish, Chinese and Japanese.
I have always had a natural inclination for learning languages, probably because I think it provides me with new perspective, i.e., it enables me to see the world with a different pair of lenses.

In the same fashion, I was also fascinated with the cultures of other countries, but the one that stood out to me the most was Japan because of its interesting culture and amazing technology; hence, I really had great interest and fascination for Japan, growing up.

No wonder I have chosen to be an English Trainer at a Japanese company. I'm fortunate enough to have become part of Adways Philippines!
Your thoughts on being an English Trainer and your overall experience so far working at ADWAYS PHILIPPINES
Working as an English Trainer at Adways Philippines has been such a fun experience for me!
I get to teach Japanese learners from all walks of life, i.e. learners from different prefectures, backgrounds, fields, and not to mention, with various personalities.

The best thing about working at Adways Philippines, in my opinion, is the fact that I have the freedom to be creative.
I literally have unlimited opportunities to come up with my own fun and efficient lessons for my Japanese learners in the most creative way possible.
Personally, I really love and enjoy creating my own visuals for my Japanese learners of English in the form of presentations, PDFs, self-made videos, and the list goes on.
Moreover, as an English Trainer, I am more on the practical side of the spectrum.
I love preparing realistic and practical lessons that truly benefit my Japanese learners of English based on their current levels of proficiency and actual needs.
For instance, I love teaching practical and useful words, phrases and expressions to my Japanese learners that are naturally used by native speakers of English.
I also teach a wide range of topics from TOEIC and IELTS preparation, business English, to everyday conversation and so on.

I am grateful that I am able to make a living by doing the thing that I truly enjoy, which is teaching.
Your ultimate goal as an English Trainer at ADWAYS PHILIPPINES and your vision for your Japanese learners
As a language learner myself, I completely understand the needs of my learners regardless of their nationality.
I love teaching learners that are seriously interested in improving their ability to communicate in English.

My ultimate goal is for them to be able to speak English as correctly as possible, and more importantly, for them to be understood easily and sound as naturally as possible when communicating with native speakers of English or when traveling to other parts of the globe someday.

I also can't help but feel very proud knowing that some of the Japanese learners I've taught English before are now working at international companies in Japan.
It simply goes to show that hard work and dedication DO pay off.
Seeing great improvement in the ability of my Japanese learners to communicate in English is truly such a rewarding feeling!

To those who are reading this blog of mine, THANK YOU for having taken the time to read it in its entirety, and if you happen to be interested in working at Adways Philippines, I am looking forward to seeing you in person and teaching you English soon!!
Stay safe and take care! それでは、またね!
---
自己紹介
2017年4月17日に入社しました、ADWAYS PHILIPPINES INC. のイングリッシュトレーナーのライオネルです。
当社内では「リオ」または「ライオ」と呼ばれています。
早速ですが、フィリピンは約7,000の島々からなる島国だとご存知でしょうか?
その中にあるボホール島という島で生まれ、人生のほとんどをセブ島で過ごしてきました。
ボホール島とセブ島はどちらもとても美しい島で、手付かずのビーチや息を呑むような観光スポットがあり、海外旅行にはとてもオススメです!
ボホール島のイチ押しの観光スポットは、「チョコレートヒルズ」と呼ばれる場所です。
ここでは、夏に茶色に変わる草で覆われた何百もの自然の丘が見られることから、「チョコレートヒルズ」と呼ばれています。
セブ島もまた、ジンベイザメと一緒に泳ぐことができる「オスロブ」など、多くの美しい観光地に恵まれています。
ボホール島やセブ島を訪れたら間違い無いなく満喫した時間が過ごせます!
前職はセブ市にある有名な語学学校で、イングリッシュトレーナーとして5年程勤めていました。
なので、日本人に英語を教えることは得意だと自負しています。
イングリッシュトレーナーになった理由とフィリピン/セブにあるADWAYS PHILIPPPINES INC. に就職を決めた理由
小学生の頃から、人に何かを教えることや、他言語を学ぶことが大好きでした。
他言語については、現在は英語のみならず、スペイン語・中国語・日本語を学んでいます。
なので私にとって天職ですし、自分自身、英語を教えることが本当に好きなんだなと改めて実感しています。
また、他国の文化に触れることも大好きです。
文化を学ぶことにより、今までとは違った新しい視点で世界を見ることができます。
今までで特に衝撃を受けたのは、日本のその独特な文化や素晴らしい技術です。
それ以来日本に興味を持ったので、日系企業でイングリッシュトレーナーとして働きたいと思いました。
そして、現在当社の一員として働けてとても幸せに思います。
イングリッシュトレーナーとしての考えと、ADWAYS PHILIPPINES INC. での経験について
日本各地から入社した社員や、違った経歴や個性を持つ日本人社員が多数在籍する当社なので、そういった意味で色々な日本人に英語を教えるチャンスがあるため、やりがいを感じています。
当社で働いていて良いと思う点としては、クリエイティブに働けることです。
というのも、自分なりに楽しく分かりやすく効率的なレッスンができるように、日々考えてレッスンの構成を考えられるのです。
ただ問題集を与えて解いてもらう機械的な授業よりずっと楽しいので、私はプレゼンテーションや動画を作成してレッスンを実施しています。
※ブログに自作動画も載せてありますので、宜しければご覧ください!
また、社員の習熟度やニーズに合わせて、実生活で役立つ単語・フレーズ・表現を試行錯誤しながら、実践的な英語レッスンをしたり、TOEICやIELTSの対策・ビジネス英語・日常会話など幅広いトピックでも教えています。
「自由に英語を教えられる」という環境を与えてくれたことに感謝し、今後も精一杯頑張ります!
ADWAYS PHILIPPINES INC. でのイングリッシュトレーナーとしての最終目標と日本人社員に対するビジョン
私の最終目標は、生徒が日常のコミュニケーションや、海外旅行をする際に、できるだけ自然な会話ができるようにスキルアップさせてあげることです 。
以前、私が英語を教えていた日本人生徒の数人が、現在日本の外資系企業で働いています。
この事実を知って心から誇らしく思い、努力と献身が報われた瞬間を肌身で感じることができました。
本当にこの仕事をやっていて良かったなという気持ちでいっぱいになります。
最後まで読んでいただきありがとうございます!
当社で働くご縁があれば、是非あなたのイングリッシュトレーナーになれたらと思っています!
「それでは、またね!」